CleanHub's code of conduct – environmental impact and social change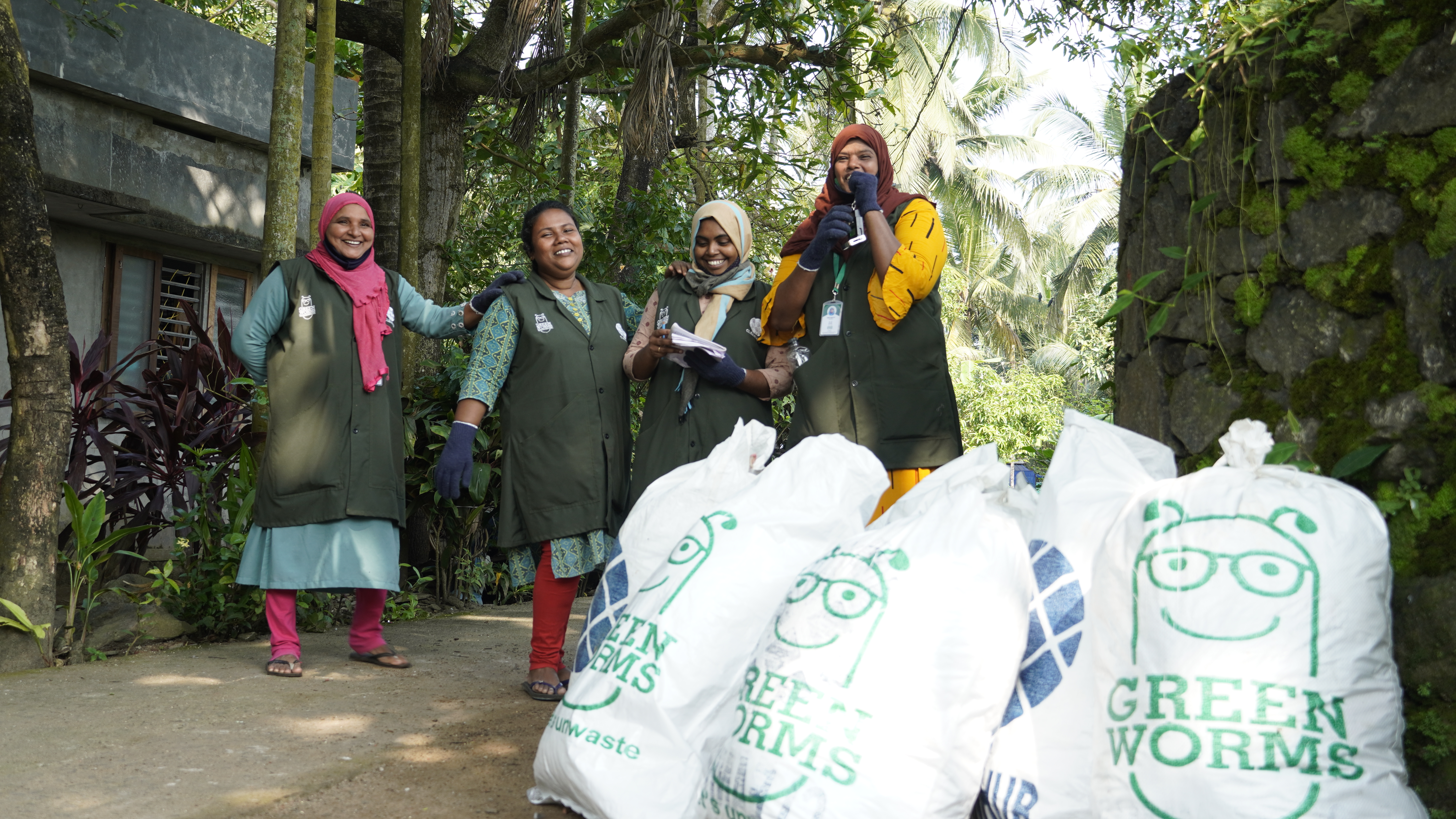 Geethu Chirayath Balan has been a waste collector with Green Worms since September last year.
She grew up in a tiny fishermen community directly by the sea: Konnad beach is situated in the state of Kerala, famous for its beautiful backwaters and hundreds of little streams crossing the Southindian region.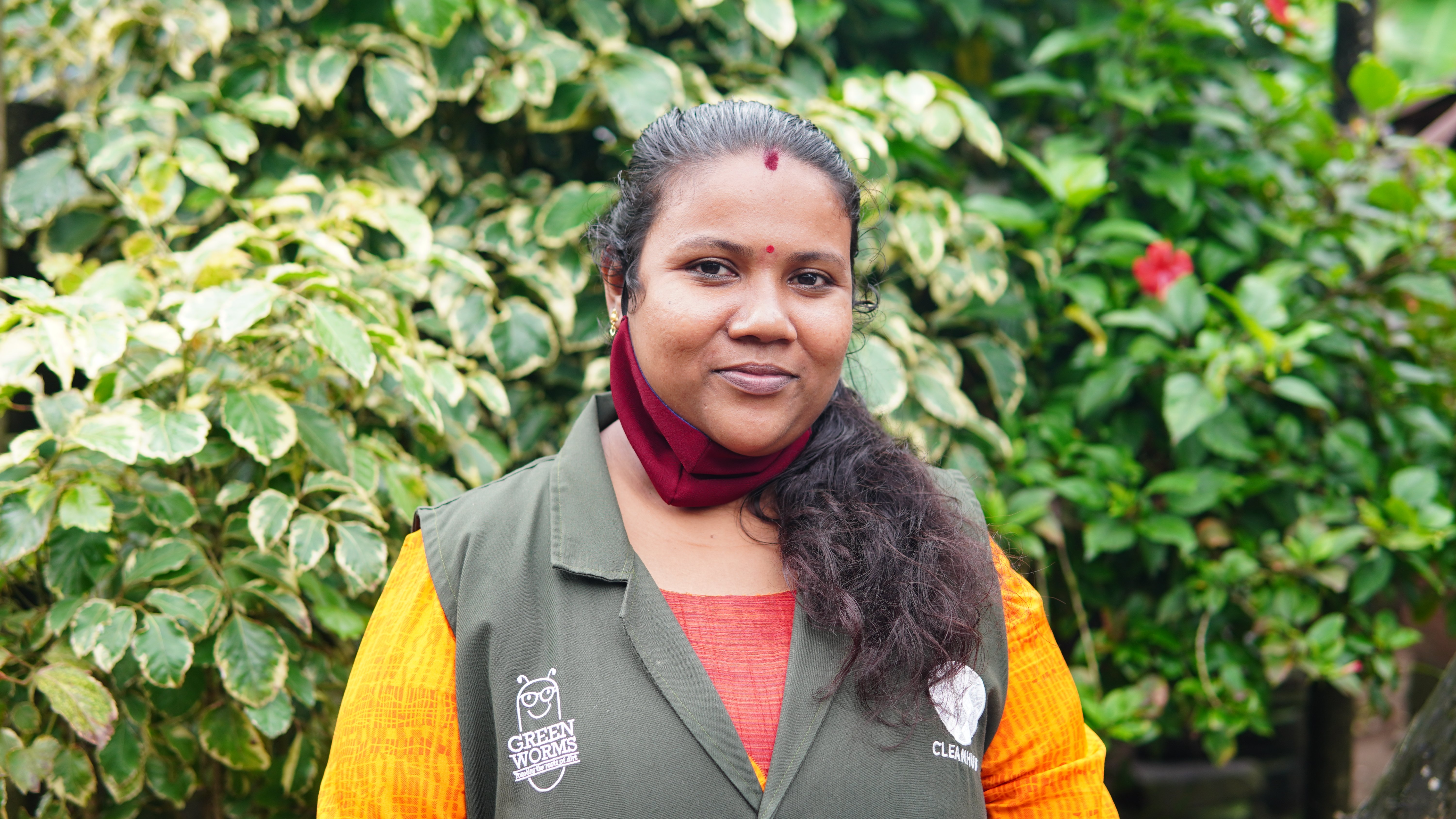 For Geethu, it has always been normal to see people disposing of their trash by throwing it into nature or burning it in their backyards. It was normal because there was no option. Like so many other regions in developing countries, Konnad beach is not connected to a proper waste management system.
According to a Pew Charitable Trusts report, this accounts for 40% of households worldwide.
Rain and winds wash the unmanaged trash into water streams, where it clogs the sewage systems, and eventually ends up in our oceans.

Selling the catch of the day at the local market has always been the livelihood of the families living in the Konnad community. A livelihood increasingly threatened by the perpetual flow of plastic waste.

Geethu and her colleagues Sajna, Saabira C., and Saabira are here to change this. With their weekly door-to-door service, the four women now collect an average of two tonnes of household trash each month.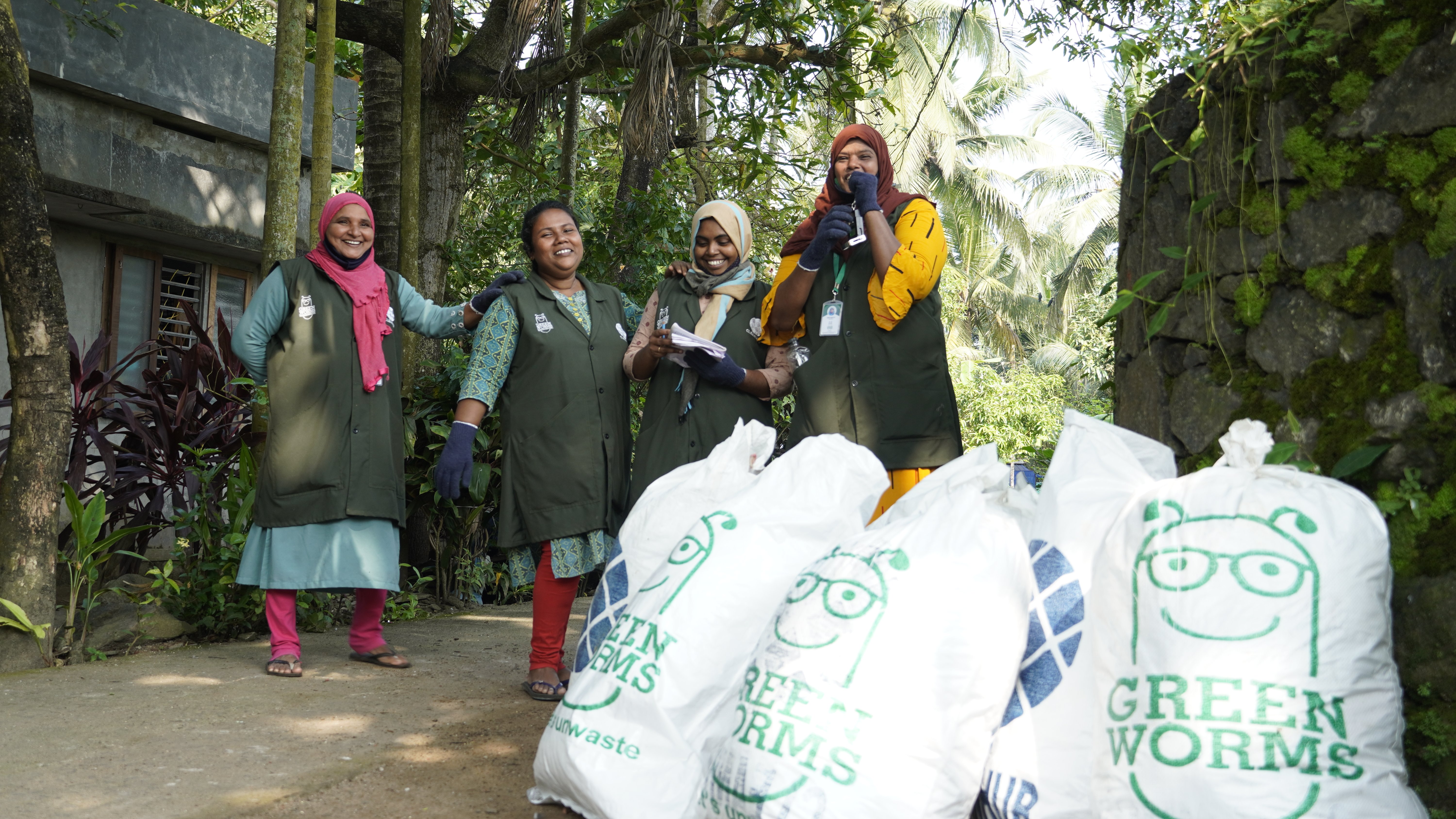 That's two tonnes every month that won't end up burning in the backyard or being thrown into the most precious ecosystem on earth.

As well as the positive environmental impact, the work with Green Worms has also changed the personal lives of Geethu and her colleagues for the better:




At CleanHub, we aim to ensure the dignity of all labor along the waste stream by enabling safety precautions, paying fair wages and health insurance, and helping remove social bias associated with waste collection activities.

CleanHub's five-step process to manage waste — with dignity.

We believe that waste management and social change go hand-in-hand.

In developing countries like India and Indonesia, formal and informal waste management systems co-exist. While formal systems are governed by labor laws and have worker benefits and safety protocols, informal systems are characterized by worker exploitation, lack of labor laws, and safety protocols.

To make waste collection and management better for the environment and the people involved, we follow the guidelines set by three international standards: the Fair Labor Association, Ethical Trade Initiative, and SA8000, as well as national labor laws.

We conduct social audits in five areas:

1. Legal compliance
Our partner organizations are legally registered and have the necessary permissions from the local government to collect and treat waste.

2. Worker compliance


All staff involved in the waste collection and management are registered under our partner organizations' payroll and all necessary age and gender compliances are followed.



3. Attendance management
We audit the attendance records of partner organizations to ensure complete transparency and accountability.

4. Worker safety and work environment
Worker safety and work environment are often compromised in waste collection companies. We ensure that our partners provide adequate safety equipment and protocols, like fire safety training and PPE kits, as well as appropriate break and restrooms.

5. Environment safety
We ensure that the waste collected is treated well and does not negatively impact the surroundings in any way.
These social audits and inspections are conducted physically and virtually with the help of CleanHub's ground staff and partners. The idea is to educate local leaders and workers while auditing so that the overall process-flow improves for the long run.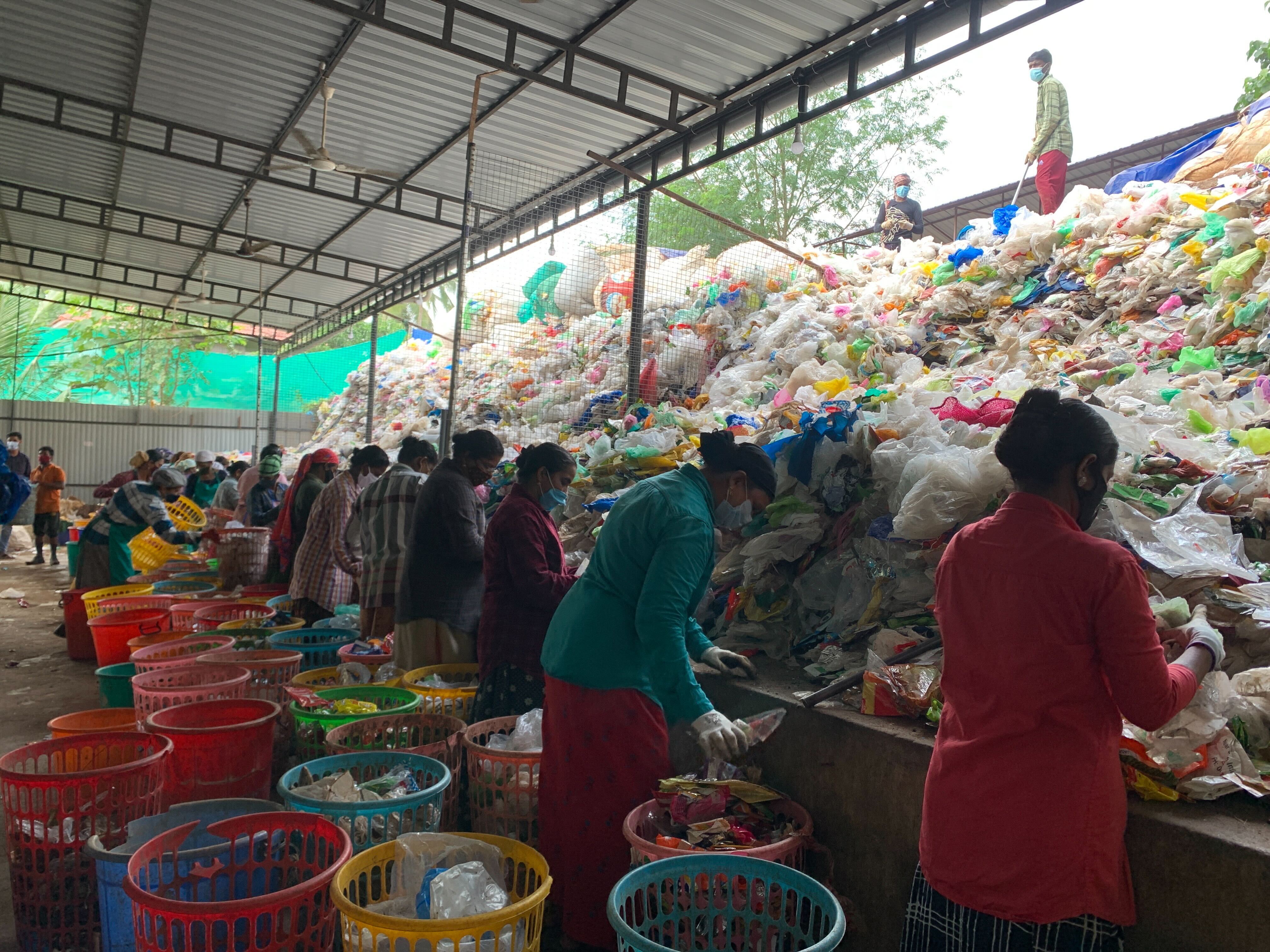 Our audits are not a one-time thing. We carry them out on a regular basis so we can be sure that our partners always meet our standards to have a true social impact.
Through our work in developing the waste management sector, we aim to drive social change by focusing
on three UN Sustainable Development Goals:
SDG 1: No Poverty
Our initiatives have helped increase wages and benefits of field workers involved in the waste collection and management process. In 2021, over 268 workers were employed by partner organizations with fair wages in compliance with the law.
SDG 8: Decent Work and Economic Growth
Through the social audits mechanism, working conditions, wages, and social benefits have been ensured for all projects. In fact, in 2021, through CleanHub's intervention, partner organizations were able to provide higher wages to workers, improve facilities at waste management centers, provide fire safety and financial assistance during the second wave of the COVID-19 pandemic.
SDG 11: Sustainable Cities and Communities
We work with partners and local communities to incentivize better waste collection processes from households and small shops. The overall goal is to divert waste from water bodies and landfills. In 2021, CleanHub and its partner organizations collected waste from over 200 houses of the fishing community in Konnad Beach, Kerala, 21 coastal villages and villages near rivers, warungs (small shops) in Jakarta, and completed 4 beach cleanup drives and 3 awareness sessions with local communities.

How businesses can help
We are happy that more and more businesses take their Extended Producer Responsibility (EPR) seriously and are increasingly designing sustainable, environment-friendly products. But it is also important to think about how businesses can reduce waste. Companies need to send the right market signals by incorporating waste management costs into the price of their products; innovate and invest in plastic-free products and packing where possible, and first and foremost: by taking responsibility for their plastic footprints now.
We help brands to take immediate action. By partnering with us, they can help to install proper waste management infrastructure and solve ocean pollution in high-leakage locations.

And beyond that, the financing of plastic collection creates jobs and social stability for people who would otherwise:
have badly paid jobs

get exploited in the informal waste sector

have no jobs at all

be highly dependent on their family/husbands
Through our work, we do not only support environmental impact but social change where it's needed most.

Write to Rodney@cleanhub.com to learn more about our work and how your organization can purchase our plastic credits and take immediate action.