How can FMCGs measure return on sustainable investment?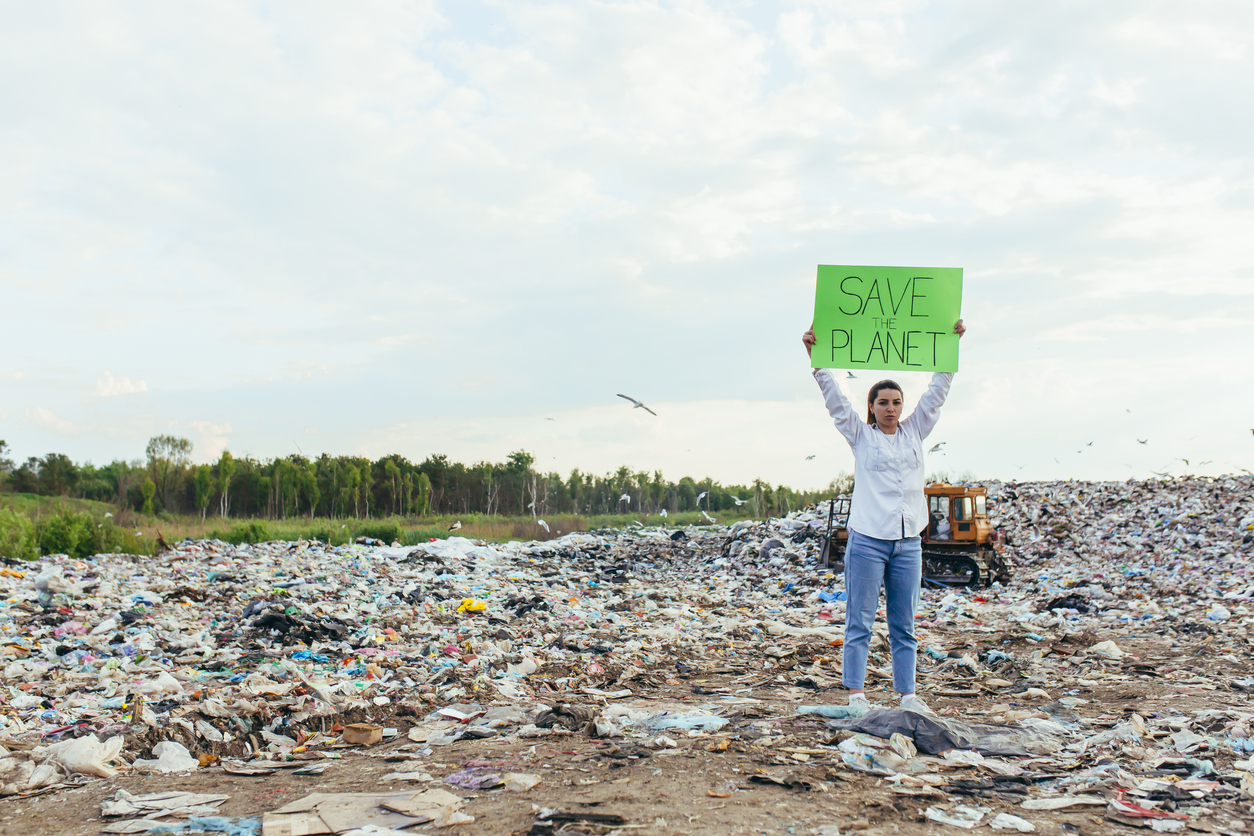 The winds of change are blowing in the fast-moving consumer goods (FMCG) industry. Sustainability – once a buzzword in the boardroom – has become a central part of many FMCG business models.
That's because investing in sustainable development can give businesses a valuable return on their investment. But moving beyond the simplest gestures, like swapping to compostable coffee cups in the canteen, and towards real sustainable strategies will involve making a financial case for your environmental, social, and corporate governance (ESG) plan for responsible investment.



How do you measure the return on your sustainable investment?
Let's go through the key points you need to know.
How do sustainable investments support your employee strategy?
If you want to make a strong business case for ramping up sustainable investments, look no further than your biggest asset: your colleagues.
Using environmental awareness to attract the best candidates
Today's employees want to join businesses that share their values and make them proud to show up at work every day. The vast majority (90%) of Generation Z and Millennials are reducing their personal impact on the environment, according to Deloitte's Global 2022 Gen Z and Millennial Survey. By investing in sustainable practices, businesses can show employees that they, too, value the planet.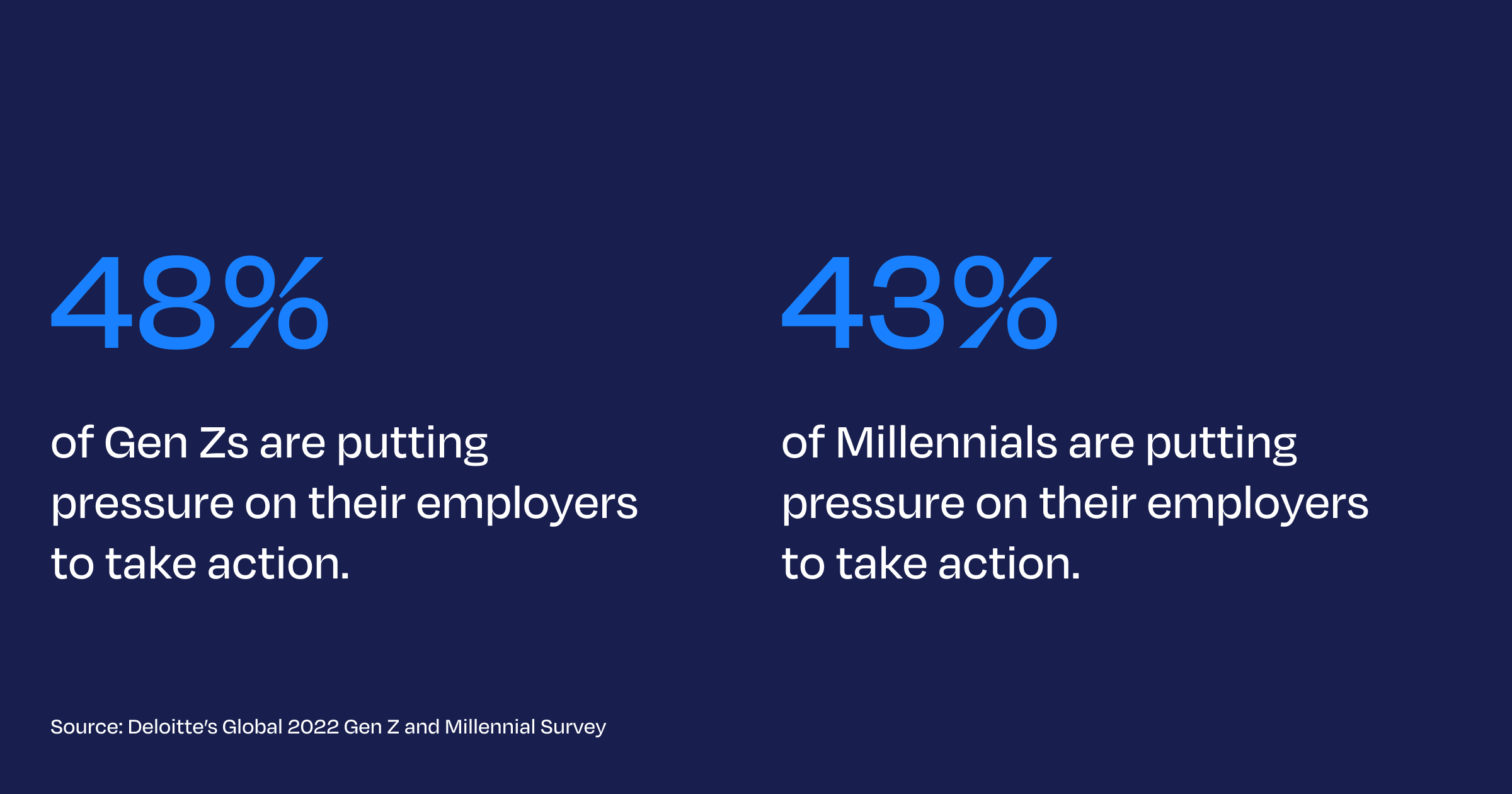 But it's not just Gen Z and Millennials – in fact, three out of four employees across all age groups would like the company they work for to place a greater emphasis on environmental and social issues, and a quarter of employees across industry sectors would consider switching jobs to work for a more sustainable company, according to Deloitte's Global State of the Consumer Tracker.
FMCG giant Unilever's own research found that in the majority of its markets, sustainability is the top reason new employees join the company. It's clear that green credentials are a key deciding factor for job seekers, so corporate leaders who want to attract top talent must boost ESG investments.
Read more about attracting purpose-driven employees.
Supporting employee retention through ESG investment
As well as attracting the cream of the crop from the talent pool, research shows that employers who invest in sustainability can build loyalty within their teams.
Employees at sustainable businesses tend to be happier and more engaged with their work, leading to more productivity and lower employee turnover rates. Seven in 10 workers said they're more likely to stay with an employer that has a good reputation for environmental sustainability, according to research from IBM.
By investing in sustainability, you'll not only see an increase in applications from purpose-driven, engaged employees, but you'll build trust and loyalty with existing teams.
How do sustainable investments increase growth opportunities?
Your ESG investing returns will also be apparent in the doors they open to new possibilities for expansion.
Retailers crave products with sustainable credentials
Environmental credentials are a brilliant USP at a time when retailers are on the hunt for sustainable products to satisfy their eco-hungry customers.
Demand for sustainable FMCG products is high: in one four-week period, 55% of consumers purchased a sustainable product or service, according to the Global State of the Consumer Tracker, and most of these were in the food and beverage or household goods categories.
We've seen how sustainable investments can lead directly to deals with retailers. Talia di Napoli, the authentic Neapolitan pizza maker, partnered with CleanHub to become plastic-neutral by helping to prevent millions of tonnes of plastic from reaching oceans annually, and this resonated with retail buyers. The partnership helped Talia di Napoli to get on the shelves of 600 Sprouts Farmers Market shops across the US.
Take a look at Talia di Napoli's impact in protecting our oceans from plastic waste with CleanHub.
Investors want a piece of the sustainability cake
Brands that prioritize sustainable investments can find success not only with their customer base and retailers but also with investors.
A majority of C-suite executives believe climate change will have a big impact on their strategy over the next three years, according to Deloitte's 2022 CxO Sustainability Survey, and they gave their thoughts about how they'll tackle this:
Shareholders are pushing retailers to become sustainable as more investors integrate ESG into their portfolios. Companies achieve the highest stock returns when they focus on ESG issues, according to a Harvard study.
Driving environmental awareness through ethical investing is no longer a 'nice to have' – it's critical to business success.
How does sustainable investing increase engagement on social media?
From the boardroom to the social feed, once your sustainable investment has the green light from corporate leaders, your FMCG will also need a marketing strategy to communicate your green credentials with potential customers.
Social media is a great platform for building brand affinity with environmental awareness. Through social profiles, you can reach a broader consumer base who are aligned with the same environmental thinking that drives your business.
At CleanHub, we help brands communicate their sustainability story clearly so customers understand that buying their products has an immediate impact on plastic pollution. We showcase your sustainability journey with full transparency so customers can shop guilt-free.

British hair care brand Noughty took a stand on sustainability by swapping to eco-friendly plastic bottles and introducing larger sizes to reduce repurchasing, but they knew they wanted to do more.
That's why they joined forces with CleanHub to minimize their plastic footprint. Noughty committed to removing the equivalent plastic for every product sold.
The collaboration not only supported the removal of tens of thousands of ocean-bound plastic but also helped Noughty grow by leaps and bounds on social media. The team created a social campaign for #noughtygreenfridays, which consistently gets above 700 views, positive responses, and shared community ideas, and the total number of impressions for all CleanHub content sits at 100,000, showing Noughty's community wants to see more of the positive impact they have on our oceans.
How do you build loyalty with sustainable investments?
While there are many ways to frame your return on sustainable investing to attract new customers, don't overlook building brand loyalty with existing customers who are fully aligned with your sustainable positioning.
Environmental concerns are personal: nearly half of 80,000 consumers surveyed by Europanel and Kantar said they feel personally affected by environmental problems. Consumers' top concerns were climate change, water pollution, and plastic waste.
These eco-minded shoppers pose a $382bn opportunity, so how can you solidify brand loyalty?
Socially responsible investing examples
Our case study shows exactly how businesses can use their advertising budget more wisely, and get a better ROI, all while having a positive impact on the world.
We knew from our Clean Oceans Survey that the use of plastic and the amount of packaging were the biggest environmental concerns for customers when they're considering buying a product.
So we created a two-step email campaign to increase engagement and revenue by communicating transparently about how CleanHub's plastic collection connected directly to the customer's purchase.
We showed customers exactly where, when and by whom 'their plastic' had been collected to show the direct impact they had on clean oceans.
It was a success!
The opening rate of the second email was 17% higher than average, and the repurchase rate was three times faster than usual. Customers repurchased the brand because they felt they were having an immediate impact on the environment.
Beware the consequences of greenwashing
At CleanHub, we believe that sustainable investing is the right thing to do. But as we've shown, it can also bring a lot of value to your business.
As the opportunity grows, however, so do the potential pitfalls.
FMCG companies should be aware of greenwashing, where brands make themselves seem more sustainable than they are, and the consequences it could bring to your business.
Whether it's a sustainability claim that isn't backed up, a misleading marketing tactic or the use of 'green sounding' language like 'natural' or 'conscious', greenwashing breaks trust with your customers, employees, and investors, costing you your hard-earned reputation.

Don't worry, we've got you covered. With our checklist on how to avoid greenwashing in brand communication, you will never cause a boohoo.
And luckily greenwashing has an enemy: transparency.
That's why we've developed smart tracking technology so brands can prove their commitment to sustainability and sleep easy knowing they won't be accused of greenwashing. All our supporters have access to a real-time dashboard and tracker to see, to the nearest kilo, how much plastic they're helping collect.
Brands like our friends at Talia Di Napoli and Noughty – plus many more like Patagonia, Toms, and PÄRLA who constantly inspire us – are discovering that the return on investment from connecting with consumers about environmental awareness is bigger than they could imagine.

Ready to make a sustainable investment today? Book a consultation with one of our experts.